How to Build a Neighborhood Care Program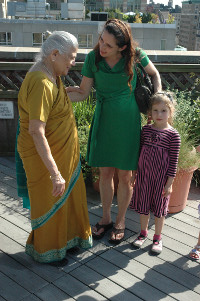 HOW TO BUILD A NEIGHBORHOOD CARE PROGRAM
We are dedicated to helping frail older seniors to age in the comfort of their homes and communities, where they want to be, whenever possible.
Background
Morningside Village was the first project ofLiLY, Lifeforce in Later Years, Inc., a nonprofit organization qualifying as a federalSection 501(c)(3) Organization, in response to the dire challenges facing a good majority of frail elderly people today, mostly on limited incomes. Founded in 2009, Morningside Village is a new community-based program, modeled to some degree on other such networks, e.g., Capitol Hill Village in Washington, D.C. and Beacon Hill Village in Boston, MA. Morningside Village was developed by a team of committed neighbors in the Morningside Park – Columbia University area of Manhattan, creating a cadre of ready, willing, and able volunteers to help frail elders who want to live at home as they grow older. There are philosophical underpinnings that distinguish Morningside Village from its predecessors; and there are practical differences as well.
Although most other similar Villages require membership fees from those served, Morningside Village is not a membership organization, and those served are served free of charge. Founders believed that succeeding generations are indebted to the eldest of us for their combined legacies; hence, they are not charged for the friendship and help that they receive as Morningside Village elders.
Another way that Morningside Village differs from other "Villages" has to do with location. When volunteers began to build the Village, we learned primarily of the existence of other "Villages" on the outskirts of cities or in suburbia.
None were in a metropolis, where the needs that very old people have are related more to isolation and less to raking lawns and such. In an environment where there are no one-family homes, and where janitors are available to serve some of the needs of residents, such as shoveling the snow outside of the apartment building or even screwing in a light bulb, the role of volunteers is different to some degree. They sometimes do errands and help to scout out helpful devices,
but more often they function more or less as encouraging and supportive neighbors, connecting the elderly to services and figuring out confusing issues as well as offering a friendly arm for walking up a slope. One elder often says, "This is not an arm; it's a heart!" In fact, over time, volunteers found that those elders served mostly had no close family members living within 80 miles. So, it was felt that volunteers, especially some, were filling in for absent families. Founders agreed that, under the circumstances, it would be difficult to charge low income elders for these activities. Rather, it would be important to focus on other means of fundraising. (See Seek Funding.)
Since June 2009, Morningside Village has enlisted volunteers and has been offering welcomed help to vulnerable elders living in the area bordered by West 105th Street, Riverside Drive, West 122thStreet, and Morningside Drive, a neighborhood where well over 2,000 seniors reside, hundreds 85 years old and over. In addition to our committed volunteers, we invite neighborhood stores, organizations, schools, and institutions to become active members of our Morningside Village program, with resources of all kinds. We do help supply elders with referrals for resources; such as, social services, visiting doctors, or professional assistance, where appropriate.
Why We Do It
Experts tell us that over 12% of the population is now 65 years old and over. And, the numbers are expected to double in the coming few decades. In addition, we have found that octogenarians and nonagenarians are often living close to the poverty line, even when they have lived much of their lives as middle class income earners. So, at a time when health costs are rising, when government health subsidies are declining, when there are far too few geriatricians, when families are living at great distances, when baby boomers are retiring, and when people are living longer, we can expect a looming crisis in eldercare.
In addition to these factors, volunteers say they feel that they are helping to "pay back" the oldest of us for the legacies that they continue to provide to succeeding generations. Without them, we would not be where we are today.
These factors, coupled with the knowledge that, as many of us have found out from first hand family experiences, very few elders wish to live out their years in a traditional nursing home. For in them, needs are often met by caregivers in aggregate. We at LiLY believe there is a strong need for a radically new way to provide people with life-affirming eldercare.
Who We Are
We are individual adult volunteers who are committed to helping the elders with whom we share a neighborhood. We are young and older and everything in between. Some of us are working professionals and others are homemakers. Some are retirees and some are college student volunteers. We share one common trait: we deeply respect our elder neighbors. As it turns out, over 75% of our volunteers are female, and 95% of them reside in the Morningside Village catchment zone.
What We Do
Morningside Village is involved in a plethora of outreach activities. It attracts, screens and trainsvolunteers. We also identify and approach seniors in need. Finally, it reaches out to community leaders and entrepreneurs.
We are flexible in the help that we offer to elders. Our volunteers stand ready to provide practical help through
Linking seniors to the healthcare and social services that they need;
Assessing the home environment;
Helping with home management issues and providing support of all kinds;
Telephoning, where trouble-shooting is required;
Helping to care for pets;
Supporting medical management issues, e.g., regularity with taking medicine;
Ironing out confusing or complicated issues;
Connecting older seniors to the community;
Accompanying seniors on outings where wanted;
Providing friendship and encouragement;
Creating wanted activities, engagements, and entertainment;
and more.
On a continual basis, we coordinate, oversee, and assess the program and the needs of our volunteers and elders.
What We Don't Do
We do not market or sell products or services to our elders. The information we learn about our elders is private and confidential. We do not share information with commercial entities or with others, unless instructed by the elder. While we have many skills among our volunteers, we are not paid professional service providers and do not offer the services of professionals such as medical or financial.
A thriving Eldercare Village may begin in the mind of just one resident. In the case of Morningside Village, it only took one motivated person to set the Village in motion!